Contemporary will be much easier so I'll do that first, and I believe I can do it in three or less sentences. Contemporary is not an architectural style as much as it is a portrayal of what is happening or needed today; an exploration of, or expression of an idea that defines a need. Such as a shoe that has an unusually long toe to provide the allusion of height. The shoes are still modern, but the feature was contemporary of the early 2000′s.  You with me?
Style
But to truly understand where the difference lies between modern and contemporary, we'll need to understand style. My trusty dictionary app lists 16 noun definitions, 4 verb and 2 idioms. So I'd say it's open to interpretation… here's mine.
style: noun \ˈstī(-ə)l\: a rule or custom of typology in the matters as they relate to the needs of a society or civilization.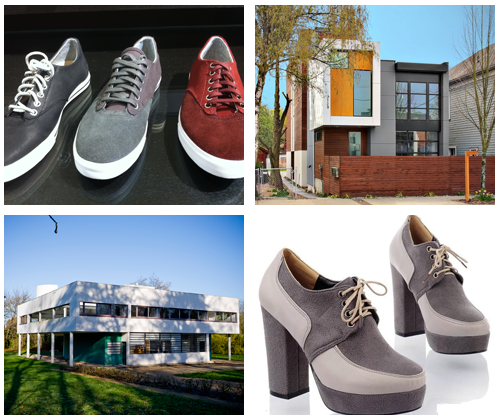 Some say style is born, experiences adolescence, matures and then dies, but  modern architecture may not have been born, may or may not be dead and might still be maturing. Unless of course your name is Le Corbusier. Huh? Ok, to better clarify modern vs contemporary maybe we need a brief history on where and how modern architecture evolved.
Violette-le-duc
Architects of the late 18th century struggled with a style that was rooted in the classical orders and no longer served the social, economic and technological needs of the people who were about to move into the machine age. Then along came Violett-le-Duc in the following century, whose writings and teachings began to address the functional needs of this emerging modern society. It was his theories that excavated the trenches for the foundation that was to be poured by the modernist pioneers to follow. Some of these guys were Victor Horta, Adolf Loos and Antonio Gaudi (there are more but I need to keep this short).
As the timeline moved through the 19th and into the 20th the machine age was in full throttle and the new materials it brought were becoming cheaper and cheaper. The result of a new concept called mass production. But the question still remained, what does this new modern style of architecture look like? While architects such as Louis Sullivan, Gerrit Rietveld, Frank Lloyd Wright, Oscar Neimeyer, et.al. offered their contributions, it was the work of Le Corbusier and then Mies van der Rohe and Walter Gropius who were able to build upon Violett-le-Duc's foundation.
The breakthrough

By a rigorous use of new technology and the materials made available by the machine age, primarily steel and reinforced concrete, they stripped the monster columns, flashy cornice and crown details, pointed arches and symmetrical compositions, while remaining true to the proportions, relationships and articulation of formal themes of the classical. What they revealed was an abstracted form that was characterized by large open plans, expansive use of glass, natural light, deep overhangs and a whitewashed minimal exterior finish that clearly expresses form, all made possible by these new materials. And the answer to the question that gnawed at the architects for nearly a century and a half; what does this new modern style look like?  Answer: Open and bright to fully display and express form.
Contemporary vs Modern: The difference
In summary, we have established that contemporary architecture is not a style, instead it is an expression of the 'now' and its temporal needs. However, when modern architecture broke from the classical ornamentation and its formality of symmetry, it was a revolutionary shift in theory thus classifying it as a movement and therefore a style.  Contemporary architecture is today's (or tomorrow's) expression of the current style, whatever that style is or was. Huh? Yeah, what was contemporary last year or the last decade is no longer contemporary, because that was then, and today is today. "Today" can be whatever new ideas are being tested and optimized for current use or expression. All trends become more clear with time, therefore contemporary design of yesterday becomes part of the nostalgia and retroactively given such terms as neo-traditional, neo-classical, neo-modern (and quite possibly postmodern & de-constructivism, but I'll let my fellow architect bash me around on that for awhile).
Some might say the work of Frank Gehry, Zaha Hadid or Moshe Safdie might be the contemporists of today. But I might disagree and describe what is happening today as sustainable design, and only because its a trend that is expressing the 'now'. But we really won't know until a name is attached to it in the next decade or century. Will the theorists of the 22nd century be describing the the work of the last three mentioned architects as the emergence of the NEXT style in its infancy? It is certainly a robust departure from that which defines the modern, one that better suits the age of information? Hmmm…