In part three I will cover the three phases of design, Pre-Design, Schematic Design and Design Development. I call this the fun part because a house is more than a building with a front door, a back door and a roof over a few rooms separated by walls and doors. It is a place. A place in our vast universe where we are allowed to laugh, cry, play, eat, sleep, pray, work, debate, escape, invite, entertain, display, grow, decorate, disagree, watch, listen, dance, raise a family and express ourselves. There is a great deal of excitement that is experienced when creating this 'place'.
Pre-Design:
This is the first of the
three design phases and once the initial hurtles are cleared this is where we begin to uncover clues that will initiate and inform the design as well as inform how it will proceed. Informed? Yes, I know, it's a strange word that doesn't seem to fit. I mean we're building a house here, not writing a paper, right?  Keep reading.
There are laws in place to protect lives and laws to protect property values. Building code and zoning law data collected from the initial documents is laid out and a determination of constraints and possibilities is made against what is required by these laws. This phase also provides an initial guideline or 'point of departure' as we begin to discuss the program.
As part of the pre-design process the site is analyzed for its own set of constraints and possibilities. This investigation will include a walkthrough to review and verify items not documented on the plot plan, taking measurements and photographs to document elements not shown but necessary to inform the initial shape and orientation of the house as well ass any natural landscape features that can or should be preserved. Important items to verify and document include how the site drains, where the utilities are, or if a septic system is required and its best location, trees, streams and most crucial to the living experience are the views, sun orientation and shade.
Programming is where we discuss room uses, sizes and amenities as they relate to your needs. A question and answer session where we will begin to analyze and interpret your vision and illustrate a clear understanding of your intentions. The  strategy here is to get beneath the 'wants' that occupy the surface and get down to the genesis of your choices. Because let's face it, a 'want' based on what you've seen in a magazine, website or a friend's kitchen might work well for them, but does it work for you?
Schematic Design:
This is where your vision merges with
your architect's ideas. Schematic design is where we study and test ideas for contextual and spatial relationship, form, proportion, scale, and then developed into a presentation for you to review. You will see those initial conversations and analysis take shape in the form of sketches, quick study models, floor plans, and always 3D digital perspectives. Let's face it, understanding how something is going to look from a 2D drawing is not easy for all of us. Even architects.
This phase also gives us a sense of whether or not we have made accurate interpretations and are representing the criteria that is the basis of your needs and lifestyle.  We always present several iterations, two at the very least and usually three, encouraging the conversation and assessing possibilities. To get a sense of whether or not the presented concepts meet your budget, an approximate opinion of cost will be included. This opinion is based on experience and industry publications and is an approximate per square foot cost, and only to be a preliminary consideration. Schematic Design will then transition to Design Development when a design option, budget and schedule are approved.
Design Development: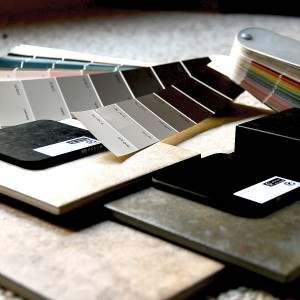 Design Development is where you see the schematic sketches begin to transform into something closer to real. Earlier programming conversations are revisited and space requirements are refined as they become more specific. Structural requirements are determined as well as mechanical, electrical and plumbing. Architectural elements such as windows, roof and stairs are detailed and conversations about finishes such as floors, cabinets, counter-tops and lighting start to take place. It is important to have fixtures and finishes introduced before the construction document phase where they are detailed and specified.Getting general fabrication might also be a necessity. By the time this process is ready for the next phase most of the major decisions will have been made. While it is not too late to make changes during the construction document phase, if major changes are requested the research and detailing can prolong the process. With your architect's expert counsel, all proposed design elements, fixtures, hardware and finish materials are presented as clear as possible and with opportunity for discussion and comparison during the Design Development phase. This ensures that our clients are fully informed of the choices that need to be made and are not rushed or overwhelmed and are comfortable moving forward.
Next post, Part 4: Construction Documents & Construction Administration
All photos by author.