So I came across another interesting article, "Architecting Your Exit". Now I initially found this odd because not much design goes into the exiting of a building. The building code has very specific criteria with thousands of minimums and maximums that govern how high, how wide, how low and how many. All contained in 184 pages! My point? With so much regulation there is very little left for architecting. In the design sense anyway.
Business Insider, which is a very good source for architecture news, published the article on their website and was written by Firas Raouf. Not that it's relevant but if I'm going to use his words I should keep it legal. And by no means are you about the read a critique of this fine gentleman and his authorship.
First sentence…
 I participated in a panel… about the technology exit environment and… how their companies are getting to their desired exits.
Ok, so maybe you picked up on the thought but at this point I am still focused on companies (people) getting to their exit in the event of a fire. So I continue…
The one key point I tried to drill into the audience was about the need to proactively architect your exit. There are several reasons why I stress this point. 1. Companies with great exits are bought not sold.
Ok, who buys companies because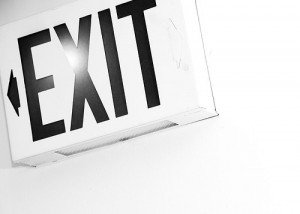 they want their emergency egress route to be a pleasant experience? If you're lucky the corridor is not filled with smoke, and if it's clear are you really looking at the nice paint job or the use of frosted glass?
 Then…
Which means that you need to find a way to get a strategic buyer to notice your company…

By now feel like I just walked into a tree while being occupied by my handheld distraction. Was the alleged topic of Mr. Raouf's article regarding the, now obvious, exit strategy and posturing for a corporate buyout misleading? Likely only to myself and a handful of other architects with the same search query.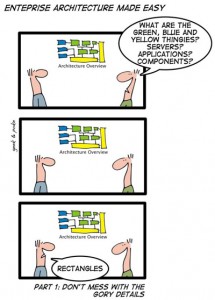 The use of the word architect looks to have infiltrated other professions, seemingly to imply a creative approach to… something.  For the industry, my colleagues, maybe my own ego and certainly my student loans, I want to make clear that I am not a software architect, an IT architect, a systems architect, an architect of research and development, the architect of a defensive strategy, the architect of the 2013 Earned Income Tax Credit Reform Act, the architect of House Republicans' January 2011 repeal efforts of the new health care law, the architect of your education or the architect of the capitol staff directory (Really?).
No! I am an architect. No need for before or after descriptivisms. A napkin, a sharpie and an idea will do.
But I can architect your exit, AND make it a pleasant egress. Even if filled with smoke.
Photos used with creative commons license. and can be found here and here.